The AVEOtsd (TSD stands for Tongue Stabilising Device) was developed over 15 years of clinical research into the treatment of snoring and Obstructive Sleep Apnea by Dr Chris Robertson, a New Zealand specialist in dental sleep medicine.
It attaches to the tongue and works by gently pulling the tongue forward, stopping it falling back and obstructing the airway. By improving breathing, it greatly reduces snoring and obstructive sleep apnea.
Watch the helpful video below to learn how the AVEOtsd works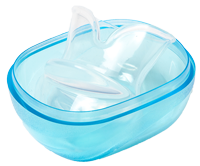 Snore... No More!
Now the answer to snoring is on the tip of your tongue!
Stop Snoring Today!       Buy Now