When was the last time you and your partner had a good night's sleep?
If snoring is keeping your household awake, making everyone tired and grumpy, the simple and easy solution is the AVEOtsd.
The AVEOtsd is inexpensive and will not ruin your teeth like some other anti-snoring devices.
It works by attaching to the end of your tongue and gently pulling it forward, keeping your airway clear.
If snoring keeps you and your partner awake at night, the AVEOtsd is the answer!
More Info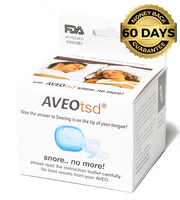 Happy AVEOtsd Customers Say:
This device has cured the snoring problem! It means no more sleepless nights and sighing all night.

Shannon
AMAZING thus far. Not sleeping alone anymore... Happy to be getting better sleeps and not keeping my partner up all night (or sending her to the couch).

Jay
The AVEOtsd is working well for me. My husband is now so happy that my snoring and holding my breath have stopped

Valerie K
Tell a Friend
Let someone know about AVEOtsd
We all know someone who snores like a lion! Enter their details in the box provided and we will send them a cheeky email letting them know they should take a look at this website!
This is a one-time email, we will not spam you or your friend.